出展者名
TAIPEI CYCLE d&i awards Pavilion
小間番号
9-32
出展品目

ロード

MTB

e-BIKE(電動アシスト車)

子供車

ホイール・タイヤ

フロントフォーク・サスペンション

駆動パーツ

サイクルコンピューター

ライト

キャリアスタンド

その他周辺用品

ホームページ
http://www.taipeicycle.com.tw
出展者ガイド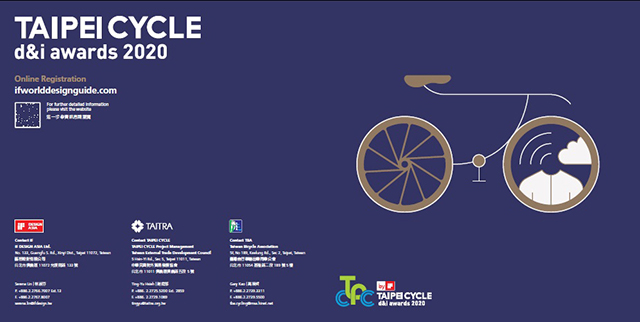 台北サイクル d&i アワード
TAIPEI CYCLE d&i awards display winning entries at Cycle Mode 2019.
Beginning in 2012, Taiwan External Trade Development Council (TAITRA) and Taiwan Bicycle Association(TBA) commissioned iF Design Asia Ltd. to hold the "TAIPEI CYCLE design & innovation awards". This is now about to be held for the eighth time. They have built a platform for TAIPEI CYCLE SHOW to demonstrate innovation and design in the global cycling industry, as well as an ideal stage for elite innovative talent from all countries. Moreover, the "Gold Award – Young Enterprise" will be awarded again this year to encourage the development of startups. All startups are welcome to show their new R&D results and participate in the competition.

To promote TAIPEI CYCLE and TAIPEI CYCLE d&i awards 2020, TAITRA participates CYCLE MODE 2019 with "TAIPEI CYCLE d&I awards Pavilion" for the first time. 42 winning entries from TAIPEI CYCLE d&i awards 2018, including complete bicycles, bicycle parts/components and E-bikes are displayed. We would like to invite visitors to our pavilion and experience high-end bicycles and innovative bicycle products.
Booth NO. 9-32

About Bicycle Industry in Taiwan
Taiwan is known as being the "Kingdom of Bicycles". In the 1970s, through high-quality production and development, Taiwan gradually built a leading position in the global bicycle industry. In addition, Taiwan's outstanding rise in export and international market share has created a long-lasting legend. With all of this as background, the first TAIPEI CYCLE SHOW was held in 1988 to help the bicycle industry expand further overseas. This turned over a new historical page. In recent years, with the integration of digitization and smart technology, the government has cooperated with private enterprise to establish for Taiwan an international reputation as "The Island of Bicycles". This also symbolizes the industry's digital transformation from manufacturing to customized design, and represents a new chapter in Taiwan's history.