See, Ride and Enjoy!
Outside Race and Ride events are co-located!
You can see Sports Bikes on and outside Makuhari Messe during CYCLE MODE international!
Bikes through two full-scale bike races and run on Off-road bike course in the hall.
Good for See and Ride! CYCLE MODE fill MAKUHARI with SPORTS BIKES.
RACE・RIDE EVENT 01


A cyclo race will be held at the off road course built within Kaihin Makuhari Park that is adjacent to Makuhari Messe on Nov. 3rd (Fri・Holiday), 4th (Sat), 5th (Sun).
Riders going through chicanes and attempting dirt walls is definitely worth seeing.
The main race is a rare night race! Enjoy the race listening to the DJ spin some tunes at the beautifuly lit up site with some drinks! (And it goes without saying, but if you drink don't ride/drive!)
Date
Nov. 3rd (Fri・Holiday), 4th (Sat), 5th (Sun)
Location
Makuhari Kaihin Park G Block, Chiba
Classes
C1~C4・CM1~CM3・CL1~CL3・CJ・U15・U17・CK1・CK2・CK3
Number of Participants (Limited)
Please see website for details
Fee
C1~C4・CM1~CM3・CL1~CL2・CJ・U15・U17: JPY4,500
CK1~CK3: JPY2,500
Team: JPY3,000~12,000
Entry Period
~Oct. 22nd, 2017
Contact
Starlight Cross Committee
(within Champion System Japan)
TEL:+81-3-5790-9469(9:00~18:00・Weekdays)
RACE・RIDE EVENT 02


Watch a professional race up close! JBCF Makuhari Shintoshin Criterium to take place on the streets on the north side of Makuhari Messe!
An opportunity to see top professional road racers ride right in front of your eyes! The racers breath, the sound of the chain rotating, and over 50 racers riding right in front of you is an amazing experience! Check it out!
| | |
| --- | --- |
| Date | Nov. 3rd (Fri・Holiday) |
| Location | Makuhari Messe North Side, public road (approx. 1km) |
| Class | JPT, J Elite, J Feminine |
Course Map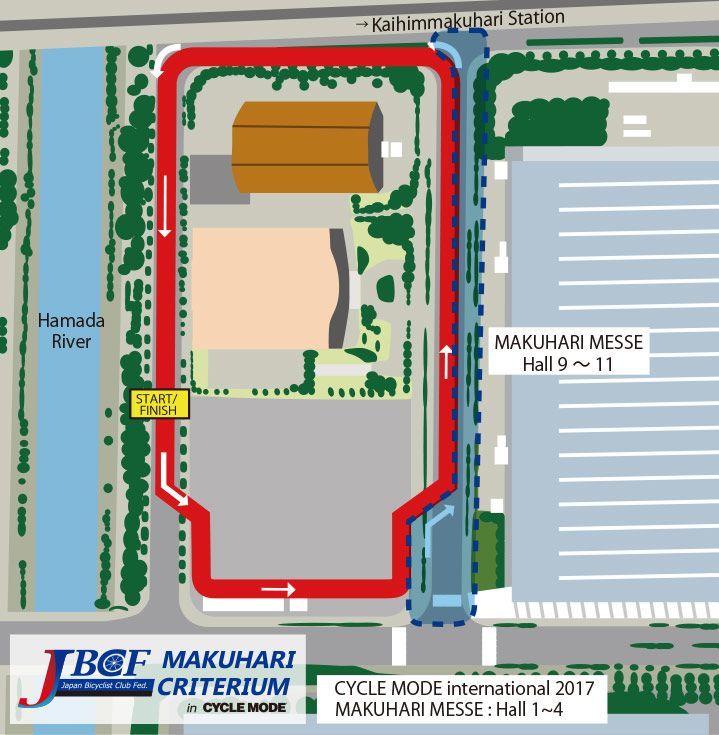 RACE・RIDE EVENT 03


You can fun Test-Ride of mountain bikes, Cyclo-cross and other off-road bikes at CYCLE MODE international.
You don't have to go into the mountain side. The limited test-ride course is built in an adjacent park of CYCLE MODE international.
Enjoy every minute at the 2km special Test-Ride course!
Date
Nov. 4th (Sat), 5th (Sun)
Location
Makuhari Kaihin Park G Block, Chiba
Fee
Free
Filling out a commitment form is necessary for Test-Ride.
Contact
Starlight Cross Committee
TEL:+81-3-5790-9469(9:00~18:00・Weekdays)
E-MAIL: